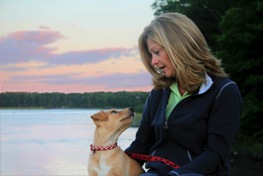 Do you wish your dog looked at you more? I could show you thousands of photos of me with dogs and the dog is always looking at me. Why? How is this possible? Can you feel the connection in this photo? This was the day before I let Chester go to his forever family, I wanted him to know he could trust people and they would keep him safe.
My secret? I am good at mirroring a dogs awareness, at reinforcing small behaviors I like. Tip: I never look at a dog and say "no!" as this makes the dog want to leave me. I have good timing, I reward quickly, and am generous with rewards. I avoid letting the dog get frustrated because I reward small attempts from the dog toward the ultimate goal. This keeps the dog engaged and wanting to work with me. Tip: When a dog is aware of me, I let him know I am aware of him also, the connection begins here.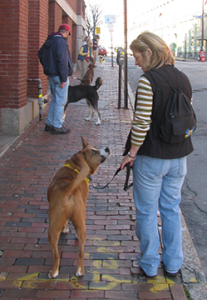 I created a video of me training clients dogs, so you can have all my secrets! I am sharing these because I want you and your dog to have a better connection like I do with my own dog, Pablo.
Benefits of my Drop the Leash Video:
achieve specific goals in the comfort of your home.

improve your dogs recall, quickly

see real-life demos with results

build a mirror image of your dogs attention

my techniques put to practical use

learn to use a compilation of real life skills, without food

how your behavior effects your dog

free scripts/booklet of each game I teach
Click here to view the Drop the Leash Promo!
Order Your Digital Copy of Drop the Leash Here!
Video Reviews:
"Unbelievable! I learned so much and my dog is coming when I call him!"– Peter C.

"Excellent doesn't even begin to describe Judy as a trainer! She's helped tremendously with my reactive and nervous border collie mix Annie. She's gone from a nervous wreck of a puppy to a cool and collective adult who can now interact with other dogs politely" – Olivia R.

"Unique and easy to follow along, I highly recommend this online class for families, reactive dog owners and anyone who wants to teach their dog to relax in more situations. – Sue B.