Based on their maturity and tolerance, dogs respond to other dogs behaviors in different ways. Let's be honest, many of you reading this have disagreed with another person, lost your temper, and became angry in response to someones actions.
Consider: Una, a beautiful long haired German Shepherd, loves to play with dogs and has shown friendly behaviors to all the dogs she has ever met. Until last week. As she was running on the beach with a Sheltie she just met, and all was well until she saw a tennis ball go flying over head. Already on the run, Una bolted after the ball, but was immediately body slammed by a Retriever mix who was in hot pursuit of his beloved tennis ball. Upon crashing into each other, Una snarled at the Retriever mix as a reprimand for causing her a bit of pain, Una is six years old. He did not respond to her reprimand, yet remained running at her hip, Una beat him to the ball and snatched it up.
The Retriever Mix again body slammed Una, aroused from the chase, and feeling another shot of pain in her back, she dropped the ball and reprimanded the Retriever Mix by putting her mouth on his neck and giving him a good hard shake, then let him go. The Retriever snatching up the ball, and returned to his owner as if nothing had happened.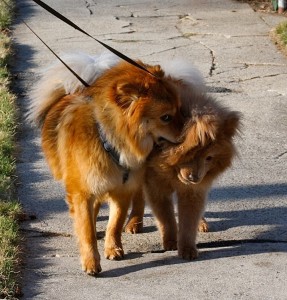 Una's response to this Retriever's use of body contact when playing was very appropriate in her mind, and she tried to return to playing chase with the Sheltie as she was enjoying this type of play.
Response: Unfortunately, her owner saw her as being aggressive, and called Una in a harsh tone. Una went to her owner who is usually trusting and gentle, but not this time, she was stiff and grabbed Una's collar — nearly lifting her front feet off the ground. Her owner is usually very excited when she comes when called, so Una was quite confused by this aggression. The ride home was scary as her owner verbally scolded Una in a harsh tone. Once home, Una was grabbed firmly by the collar and put into her crate while her owner continued to stomp around the house and gave Una hard-eyed stares. Una has now learned when her owner calls her it makes her feel very unsure and afraid.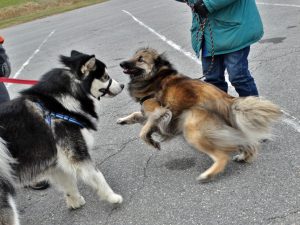 Humans also respond with different levels of feedback depending on age and life experiences. If the Retriever had lightly rubbed Una's shoulder as he was heading to the ball or lightly bumped her body when she won the ball, she may have only turned away or growled.
Did I mention Una initiates play with a play bow followed by a game of chase. She does not enjoy wrestling. Did Una have time to tell the Retriever Mix how she liked to play? Did he even ask? Is it possibly the Retriever has learned that a hard body slam is therefore more likely to win the ball? Will Una's feedback prevent him from body slamming another dog? Doubtful, however it depends on his temperament and his sensitivity to a reprimand.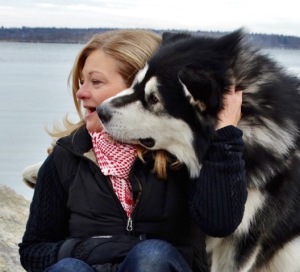 My point: If your dog scuffles with another, consider the entire incident. How well do they really know each other? Was their contact made before an invitation was offered? Was one dog trying to steal a resource from another? Do the dogs have different styles of play? If one dog is a wrestler and another only enjoys chase, then you can expect some conflict to occur. If the reprimand or feedback given ends in a puncture or broken skin, take a breath and ask your self how many times has your dog played with other dogs and not broken skin? If the answer is many, then you can assume these two dogs were very different and conflict was somewhat expected. If your dog is beginning to reprimand dogs more often, then slow greetings down and be sure the dogs have similar personalities, play styles and time to signal intentions. This will not only reduce conflict, it will reduce the level of reprimand, and make for a far more enjoyable ride home!