Tip #1 To change your dogs unwanted habit, you need to know what your dog loves! Once you know the reward your dog is willing to work for, you are ready to change his habit. The same reward may not work for all dogs. 
Popular rewards:
Food. I mean high value, like chicken, hotdogs and cheese.
Play, such as fetch or tug.
Hunting. Allowing some dogs to hunt in the

In Judy's puppy class, all  pups sit and wait calmly before they get to "go play".

grass can be highly motivating.
Playing with other dogs.
Sniffing. If your dog is an olfactory machine, use it to motivate.
Verbal praise is rarely enough motivation to change a dogs habit.  
Tip #2 To change your dogs unwanted habit, you need to add a marker, like a clicker or a "yes", so your dog knows which behavior is rewardable. 
Catch your dog doing the right behavior or something close to the desired behavior, click or say "yes" the second your dog does the desired behavior. Reward with something your dog loves.
Tip #3 To change your dogs unwanted habit, you need to offer the reward in a timely manner.  If your dog sits, rather than jumps on you, you mark the behavior and offer the reward quickly. Well timed rewards helps the dog learn that his behavior predicts his favorite reward, hence he will perform the desired behavior more often.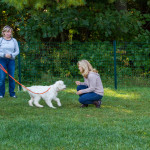 Bonus Tip Initially, you reward your dog every time he offers the correct behavior. I know this is hard for many dog owners, but it will make a huge difference in how fast your dog changes his habit. Next, start randomly rewarding with the high value, but always let your dog know you are pleased with his new habit.  Over time, you randomly reward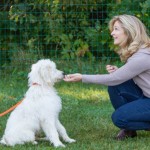 with what your dog loves, but always reward with something pleasant to your dog.  Positive reinforcement works for dogs of all ages, and is a great way to help your dog change his habits.