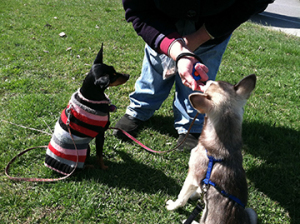 As a Professional Dog Trainer, it is my job to teach you how to teach your puppy or rescue dog to have a soft mouth. This goes for your puppy mouthing a human, child or another dog.
If you have adopted a rescue dog, can you be assured this dog knows not to bite?
I discuss a soft mouth in all my classes because it is so important and many of you have rescued a dog. If I approach your tethered dog holding a scarf, glove or toy, will your dog lunge and grab the item along with my hand? Have you tried yelling, "no!" Did yelling teach your dog an appropriate behavior? Instead of yelling, you can simply walk away the second the feet come off the floor. Approach the dog again, if his behavior is not appropriate, walk away, repeat until he sits or does not jump, then reward with play! Rewarding your dog for the appropriate behavior is much faster than telling the dog "no".
It is essential that your dog associates all hands with complete trust. I say this because if your reprimand towards your puppy is too harsh, for example, holding the pups mouth closed with your hands, or sticking your fingers down its throat, or holding your dog down for biting too hard, you can actually teach your puppy to bite others, just not you.
Dog Star Daily has a wonderful article on Puppy Biting, please read below. For the best way to teach your dog a soft mouth, read more….