Control Unleashed Class was designed by Leslie McDevitt as a way of helping her own dog cope with the intense distractions at agility events. Not an easy task for a dog who was worried about strange dogs near and also afraid of noises.  The concept of CU is to create a focused and more confident dog!
Who needs Control Unleashed Classes?
Dogs that are uncomfortable or unable to work off lead around other dogs
Dogs that are easily distracted and have difficulty concentrating
Dogs that are reactive or easily aroused
Dogs that are anxious or stressed and often become shut down
Dogs that are unable to control their impulses when excited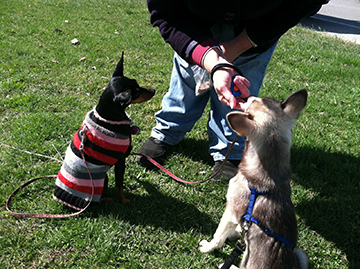 Trainers agree this class structure offers a practical and positive approached to helping dogs who  struggle with environmental changes. Understanding how to use desensitization and operant conditioning is presented in a clear scientific way so everyone can understand the steps.
Class structure is incredibly flexible to meet the individual dogs' temperaments and needs. CU involves exercising self-control through the use of default behaviors which are always a good thing, especially for dogs with poor focus or arousal issues.  It involves self-calming techniques, which is great for dogs that are shy or fearful or reactive or just aroused.  CU involves a highly predictable behavior that has them re-orient to their handler in times of conflict.  In short, this class provides highly predictable rule structure, valuable learning benefits, and  increased connection and teamwork between dog and person!
I highly recommend you try this class with a certified trainer, you will be so glad you did!