When you first bring your puppy home, you will notice they use their mouths to interact with everything around them, including you! After being separated from their litter mates, puppy's must learn learn to live in a human home where the rules are quite different. Please do not expect them to acquire this knowledge in one day or even one week, as changing habits simply does not occur that quickly. Setting rules in a gentle way will raise a gentle pup.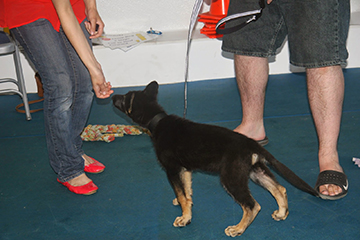 Each month I consult with stressed clients whose now 1 year old pup is biting family members, some even attacking. Every case has one common history fact: "I was told to do this when he growls at me."
FIVE THINGS YOU SHOULD NEVER DO TO A PUPPY: (harsh handling a pup can create aggression in your pup later in life)
1. Never hold his mouth closed when he bites you.
2. Never stick your fingers down his throat.
3. Never grab him by the scruff and hold him down until he submits.
4. Never stare him in the eye until he submits.
5. NEVER use your hands to cause physical pain in any way.
STOP!!!!! Aggression teaches the learner to be aggressive to others. Social learning is real and present in every home. Weather you are observing dogs, rats, birds or children, you will see that the environment influences behavior.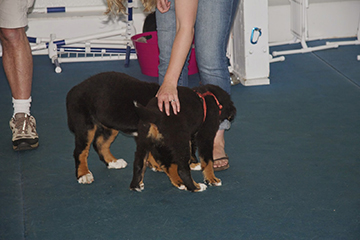 WHAT SHOULD YOU DO?
1. Give your puppy appropriate feedback when he uses his mouth on you. Give a loud "OUCH" and move away from the puppy for a few seconds. If he however, is simply mouthing with no pressure, you can ignore him as he is using a soft mouth and many breeds are bred to use their mouths to assist owners in many ways.
2. Enroll your puppy in an AKC STAR Puppy Socialization class taught by a Certified Pet Dog Trainer, playing with other puppies teaches bite inhibition.
3. Hand feed your puppy as many meals as you can. Place the food in the palm of your hand under your thumb, if you feel teeth, wait until he licks, then remove your thumb and reward (a task for mom and dad, not children). Try feeding your pup some peanut butter on a metal spoon (this may be necessary for pups with a particular hard mouth. They will learn to lick as it is more rewarding.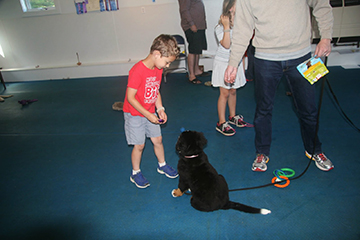 4. Play tug with your puppy (great for teaching "take it" and leave it"). Grab a few treats in your hand and begin moving the toy back and forth on the ground say "take it", when your puppy mouths the toy use a happy pitch, "yes, good dog" after a few seconds of tug, relax the pressure on the tug toy but do not let go, say, "leave it" quickly offer your pup a treat right at his nose. He will let go and take the treat. Yea! you just completed a positive pattern of behaviors you and your dog both agree on! Repeat the pattern many times and if your puppy ever bites your skin, DO NOT LET GO OF THE TOY, just give a loud "leave it" and your puppy will let go. IMPORTANT!! Do not reward your puppy with food after he just bit your hand:( This will only tell him that biting you gets a treat.
5. As your puppy grows, he will fall into old habits of using his mouth to grab things that move like pants, skirts, things swinging in children's hands. So, be prepared and set your puppy up for success by: using each meal as a training time to help your pup learn good behaviors, use your pitch to help the pup know when he is doing something right, use good timing and always reward your pup with a happy "good dog" when he mouths his toys. Reinforce the "leave it" cue several times per day as repetition is a good thing. Be patient, your hands should always be rewarding when they touch another being — always!